This is a felted bag I made in June for my dear friend Valerie, the friend who finally taught me how to knit this past spring. It's the first thing I made that wasn't a scarf, my first felted thing, my first knitted gift. I thought it was fitting that such a gift should go to the one who made it all possible! I made it in her favorite colors.

And it was with this project with which I learned I was twisting my k stitches! Fortunately, the felting left no traces of twisting and I re-learned how to knit right afterward. Such a good learning experience.

The leather handles were interesting... I bought the leather from MacPherson's in Seattle and then hunted around for a shoerepairman who would stitch them on for a reasonable rate. It ended up costing almost as much as the yarn did, so it was an expensive beginner's project. But that's okay! It felt good to make and give something handmade.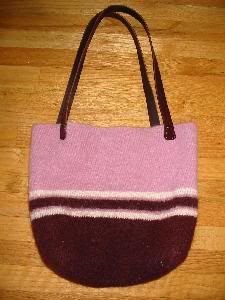 Bon Voyage Shopping Tote by Leigh Radford
Interweave Knits, Summer 2002
Lamb's Pride, Brown Sheep Worsted
Finished June 2004