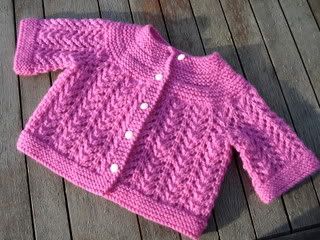 February Baby Sweater
from Elizabeth Zimmerman's Knitter's Almanac
Yarn
: Cascade 220 Superwash, color #829, one ball plus a smidge of another, approximately 300 yards or fewer altogether.
Needles
: Addi Turbo US7/4.5mm
New technique
:
The Russian Join
!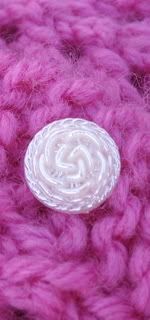 I really wanted to knit one of these for my own little peanut, but as she's quickly growing out of the little sizes and into bigger and bigger ones, and since Elizabeth Zimmerman doesn't include schematics with her pithy instructions, I decided to knit one for a tiny baby first. I think this one knit up at about a size 6 months. Now I know approximately how to size the sweater up if I were to knit it at this gauge again.

One modification I might like to try is a stockinette stitch, raglan increase yoke, a la Linda. Garter stitch has never been my thing, aesthetically, and I really like the cleaner look of the stockinette stitch yoke she made.
I really wasn't so sure that the Cascade 220 Superwash was the right yarn for the project. It didn't feel very soft and I didn't want to gift something that felt acrylic-y. So when the knitting was all done, I tossed this little lacy number into the washing machine with a load of towels. If the color bled, I'd rather it happened on my navy blue towels than on a load of Julia's pretty baby girl things. In the end, the sweater came out very, very soft and has a slight halo. I've completely changed my attitude toward 220 Superwash. I want to use it again, soon. As for colorfastness, there was one light blue towel in the load and it didn't seem to change color at all.
I also want to say
mille grazie
to
Kristen
and
Amanda
for answering questions about adding the underarm stitches.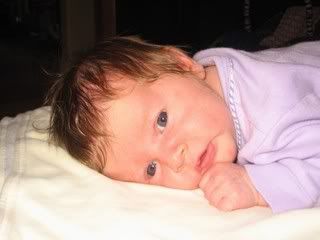 For Baby Julia, born February 2007
Cross posted to the
Zimmermaniacs
.
edited to add:
Here is a picture of Miss Julia at about seven months in her FBS. Notice that I would have made the sleeves a bit longer if I had to do it all again; as EZ says, babies come in all sizes!