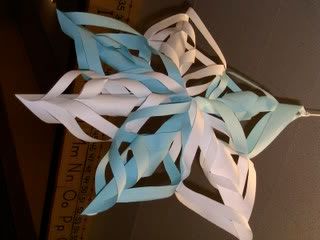 Thanks to Lolly for the idea... I helped 85 kids make huge 3-D snowflakes this month and they're hanging from the light fixtures all over the second grade area. We have been getting tons of compliments on these pretty snowflakes!

Thank you, thank you, thank you for all of your positive comments about Mutant Jemima. I told many of you that I almost didn't post those pictures at all because I still feel "lumpy" (and you were right, this is more about my self-image right now than about the sweater), but I'm glad I did. See, finishing a sweater for myself inspired me to knit more more more (stop the clock, please!!), and seeing the pictures of myself inspired me to start thinking about exercise again. I got lots of exercise when Peanut was 0-3 months old. It was summertime and I live in a pleasantly hilly and pedestrian-friendly area; we hit the sidewalks often with our stroller. And then I started back to work. [crickets chirping] And then winter set in. [double crickets chirping]
Today is a chilly day but the sun is out, so when little Miss wakes up from her nap I think we'll bundle up and go out for a walk. I see that
Big Girl Knits
is on reserve for me at the library so we might walk up there and get it. I skimmed the section on adding short rows last weekend when I visited
Hilltop Yarn
and I really want to try this technique out next. Yay for the public library!
On the same day, I went to
Weaving Works
and bought a couple of skeins of purply Koigu. Many sock patterns call for three skeins of Koigu, so I'm thinking a toe-up sock is best. I've been playing around with the Knitty
magic cast-on
for toe-up socks technique (genius! you must try this out) but don't know how many stitches I should cast-on to begin with. Any tips? I have never knit toe-up socks before... Also, I'm thinking of using the
toe-up Jaywalker pattern
since I still haven't made a pair of Jaywalkers, but would love to hear any of your other suggestions for toe-up patterns that would showcase Koigu well.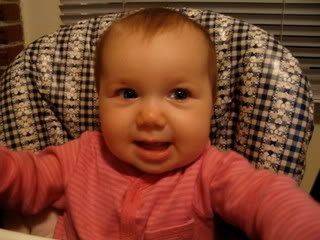 Peanut says, "Have a great week, everyone! Eat your sweet potatoes, they're good for you!"