We haven't had many shiny happy days in Seattle lately, so I forgot all about photographing this finished sweater. In fact, since it doesn't fit me right now, I put it in my knitting basket and forgot all about it!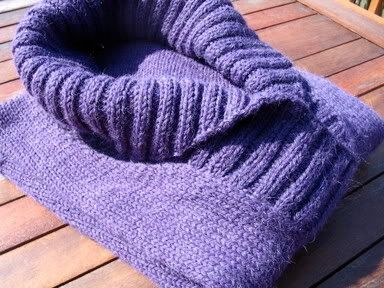 Adrienne Vittadini Shawl Collar Pullover
Vogue Knitting
Winter 2004/05
Cascade Lana d'Oro, Heathered Purple, just over 10 skeins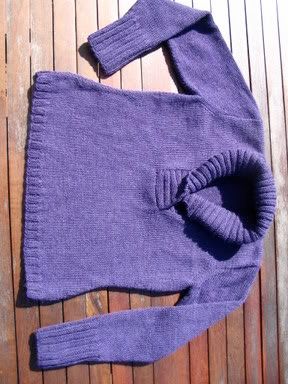 I love the shape of this top. The pattern is exceptionally well written with clear instructions on which increases and decreases to use when. Gentle waist shaping means it's going to fit me well this fall. It's really a simple design, and the collar is all the detail it needs. I didn't have to make any alterations to the pattern to make it fit (my normal body) just right, except for adding some length to the sleeves. I tried it on today, just for kicks, and I can tell that later I'm going to love wearing this sweater!
Now I just have to translate this fit to Jemima and I'll be flying high!
Cascade Lana d'Oro was discontinued a year or two ago, so I'm lucky to have bought a couple of bags of it when I did. This purple bag has been sitting around waiting for just the right project. It's a great yarn to knit with and I can't wait to wear it. Lovely soft heathery goodness, great stitch definition with the ribbing.

I'm on spring break this week, which means getting lots of things done around the house, but it also means a little much needed R&R time. It was spring break two years ago when I bought my first needles and Lamb's Pride Bulky to make my first scarf. Two years already! Wow, this hobby has really taken hold.
P.S. Just have to share this sweetness sent to me by dear Karen. A Debbie Bliss Cashmerino Aran baby hat, so sweet, and a great book of fairy tales, poetry, etc. that will, I know, be a bedtime staple in Casa de Karma. I'm such a lucky gal! I can't wait to show a modeled shot of the little hat. Thanks again, Karen!!! Mwah!