When you're pregnant, you're not supposed to change the cat litter box. Mr. Goodkarma wasn't very happy about that. He made the loudest, most dramatic protests every time he had to do this chore that I've been doing for the last ten years and insisted that it was time to get an automatic litter box. The kind that basically cleans itself. Right. Away. This is what he came up with. Naturally, he chose black.


It's enormous and robotic and the first time Julian and Lennon saw it do its thing (the globe part mechanically rotates more than 360 degrees and then back again to clean itself, each time a cat leaves a deposit), they must have thought Darth Vader just invaded their home. BIG eyes. Very curious and a little scared. But now, a day or two later, they seem to think it's just another part of the house.

In more interesting news, I met Sundara and her friend V again last night, and their friends S and D were there, too. This time, we actually knit! Yay! These are four really great gals and I'm glad to have met them. Plus, V taught us all about hush puppies. She thought we were all so cute for not knowing what they are. I've had them a couple of times but most of the others hadn't. Next time, though, I want her to explain the mystery of grits.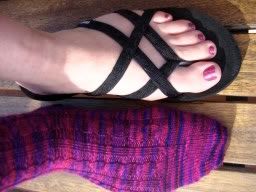 I finished the first Rib and Cable Sock over the weekend and it fits perfectly! Yay! Nancy Bush is really smart and I should just follow her directions. (Unlike with the Conwys when I assumed that my feet were bigger/wider than they truly are and ended up with sloppy socks.) I like the toe shaping; I believe it's the same as the Star of Three Points toe in her Knitting Vintage Socks book. Here's the first one:

And so of course I cast on for sock #2 right away. For me, in my limited sock experience anyway, sock #2 always goes so much faster. I take my time with sock #1, sometimes putting it down for days/weeks, because I worry that it won't fit or that my heel will suck or that I'll run out of yarn or some other ridiculous thing. I think now I'm going to attack socks much more confidently (as long as I have a pattern that I know is well written) and not worry about that stuff. I have yarn for a couple more pairs of socks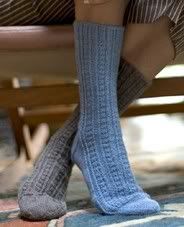 (thinking of those Retro Rib Socks by Evelyn Clark in IK for one pair) and then I've got to try out Sundara's sock yarn. So. Pretty. She tells us about the yarn that she chooses (only the best, none of this cheap stuff for her), and tells us what she does or doesn't like about other sock yarns out there, which is really good information for me since I'm still experimenting so much with different yarns/fibers/brands/etc. I am super tempted to buy her yarn already, but I'm trying to be reasonable and not have tooooo much "overstock" in my house at once.

At my first meeting with Sundara, I had Jemima with me and she said I was "brave" for knitting sweaters while I'm so preggo. That made me stop and think. Am I being brave, am I determined to get my figure back as much as reasonable, or am I in denial? Something to think about while I redirect my attention to socks! haha



And speaking of babies, I have received the sweetest gifties in the mail recently! The first one came from Mitten's mama, Heidi. She's makes baby bibs and changing pads out of cool vintage fabrics and sells them at her shop. I was surprised and happy to receive this cool one! I love the red print and it's reversible with an olive green back. Tres chic! My little peanut is going to be so stylin'. Heidi also sent a couple of great articles; what a good pal.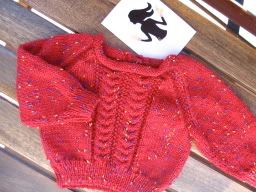 I was really surprised to get a package today from New Zealand. Kim (aka Kozmic at Knitty) knit this sweet baby sweater for the little peanut! I love the colors. The yarn is a machine washable wool blend with primary colored flecks, from New Zealand, naturally! Can't wait to see this on the little one, maybe with the red Robeez monkey slippers my mom gave me. How lucky am I?

Finally, I got the new KnitPicks catalog this week and decided to skim through it this morning. I found two projects that look strangely familiar....