Yeah! I actually finished something! I've been admitting to myself that I have a teensy problem with starting projects and not totally finishing them. Unless it's a small giftie that has a deadline, then I'm your girl. We're having a double baby shower this week for two of my coworkers. I made these booties for them, inspired by Fig and Plum's Sheik Yerbouti post. Clearly, I used a different pattern, but the idea came from her. Mine have a garter stitch sole. The pattern I used also calls for a garter stitch cuff at the top, but I opted for stockinette stitch so they would roll. Thanks for the inspiration, Jessica!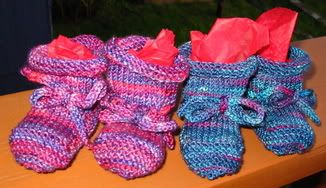 Sydney's Blackberry Booties and Gracen's Blueberry Booties
Pattern:
Free Circular Seamless Baby Bootees
Yarn: Koigu P#408 (Blackberry), P#124 (Blueberry); 100% merino
Needles: #2 Brittany Birch DPN
What did I learn? This was my first use of kitchener stitch, the miracle stitch! Yay! I also learned that Koigu PPPM is dangerously gorgeous and fun to knit with. This will certainly not be my last dance with Koigu.
Another
view
of the Koigu for these projects.