Where have I been? The past two weeks have been unbelievably frantic.

*Car repair estimates: check.

*Kitty cat feeling better: check.

*Attend Sen. Barack Obama rally for Sen. Maria Cantwell: check.

*Baby's first goth show: check. (Sisters of Mercy came to town... sadly, their show was very poorly engineered so they sounded awful and the smoke machine was working so well that you could only see the performers' sunglasses... but on a brighter note, Rob Dickinson, lead singer of The Catherine Wheel, opened with a solo set and was brilliant.)

*Prenatal yoga classes: check.

*Childbirth classes: check.

*Pass the gestational diabetes screening: check.

*Belly finally grown bigger than bust: check. check.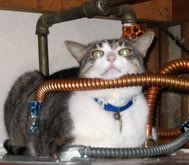 *Home office deconstructed to make room for nursery: check. I've been relegated to a corner in the dungeon basement rec room, which is working out pretty well. Lennon (in the picture to the right) welcomes me to his lair. His favorite spot is on top of the hot water heater.

*Bureaucratic meetings, workshops and conferences: check.

*Report cards: almost done.

*Knitting: check.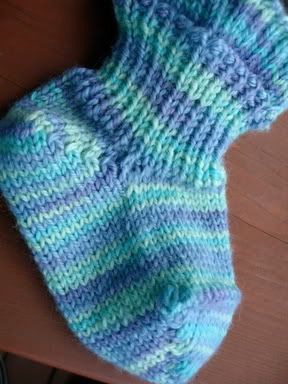 Ruffle Rib Socks
Interweave Knits, Summer 2005
Lorna's Laces Shepherd Sock, Georgetown colorway, leftover from my own Conwys.
Addi Turbos size 0 (2mm)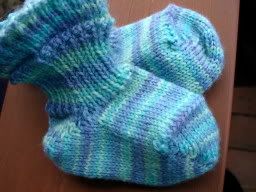 These were fun to knit. At another time in my life, they would have taken so little time, but they were the perfect project to bring along to a meeting or to knit along with the little bit of TV I've had time for these days. A row here, a heel there, and they're finally done!
I've been wanting to try short row heels and this pattern felt like a sampler: short row toes and short row heels, plus a decorative zig-zag bind off that I hadn't tried before. I'm really happy with the results; I hope the future wearer of them feels the same way.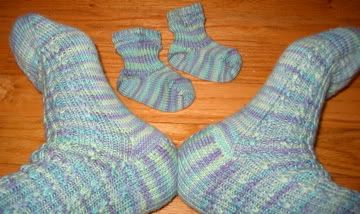 My Conwys (color is more true on the first two pictures than here) were knitted on Addi Turbos size 1 and I really, really like the denser fabric of these socks done on size 0. Lesson learned: check!