Not that you'd ever know it; her smiles are so random that we can't capture one with the camera yet!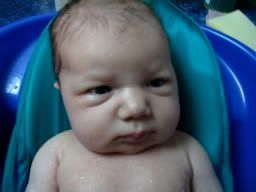 But she does love taking a nice warm bath!
I can't believe she'll be three weeks old this weekend! Mr. Goodkarma and I are very much in love with our little girl and couldn't be happier to have her in our family.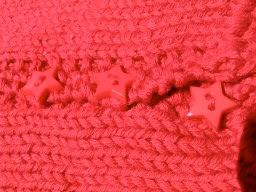 I promised to show off Daisy. This cardi was meant to be part of a 4th of July ensemble. See, we have friends who have a houseboat on Lake Union where the big big fireworks display is every year in Seattle, and of course the 4th of July is their favorite holiday of the year. I bought Peanut a little American flag onesie and some blue pants and thought a red cardi would be the perfect topper. Well, we didn't end up going to the party (she was only a week old!), and the clothes were too big for her, but she's growing.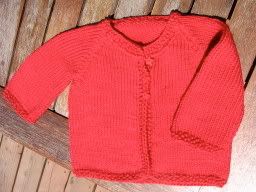 Daisy
, Knitty.com
Designed by
Stephanie Pearl McPhee
Cotton Fleece in Barn Red, 1 (and a tiny bit of a second) skein
This is a really, really, easy peasy cardi to knit. I knit most of it in one day in the car, and the trip was probably two hours roundtrip. Highly recommended pattern, easy to follow, simple for the babies, and Stephanie's directions are hilarious. I mean, she tells you to stop for chocolate for goodness sake! It's so easy, I started a green one for A's little buddy, Jack. I've knit about one row since Peanut was born...
Just today we got a surprise package from our friend
Parikha
. This I was not expecting at all. I opened the box and saw this sweet little handmade bag...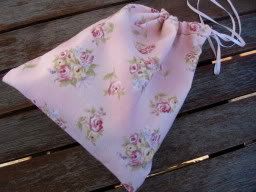 and inside were these sweet little booties! Ack! Tooooo cute. And Parikha, thank you for putting a little dab of pink on them but not going totally Pink Crazy. They're perfect!