Remember my friend Lisa's twins who were born last month, about a month early?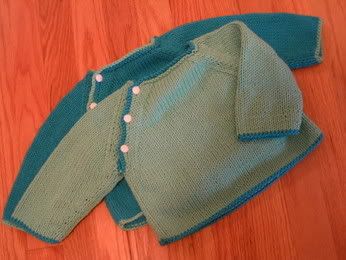 Jacob and Sarah's Baby Raglan Sweaters
Erika Knight's Knitting For Two
Size 3 - 6 months
Cotton-Ease: Popsical Blue and Pistachio, about 1.3 skeins of each
Addi Turbos Size US8/5.0mm

This is such a simple and versatile pattern. The original pattern is called Embroidered Baby Raglan, which is very precious, but this time I was going for a more simple look. Like Kris, I wondered why I didn't knit these in the round. Duh. I spent too much time weaving in ends for such tiny sweaters. However, this pattern was just what the doctor ordered at the time; I did most of the work during my first trimester when I could barely keep my eyes open in the evenings and couldn't conjure up the brain cells to do anything other than exactly what the pattern called for. Of course, I saved button sewing and end weaving for trimester two when I am much more lively and alert!




I love the garter stitch detail at the raglan and hems! And the buttons on the raglan seam will (I hope) make dressing those squirmy little ones easier.

This was the first time I'd used Cotton-Ease. I bought a bunch of it last summer when it was being discontinued and on sale everywhere cheap cheap cheap. (These two sweaters, including buttons, cost under $5 each). Having already knit with Rowan All Seasons Cotton when I made my Raspberry Jacke, I can definitely appreciate the different levels of quality in acrylic blends. That said, I think there is a place for this yarn, and that it is a great alternative for everyday clothing and kidwear. Machine washable, great colors, soft.

Which sweater is more girly and which is more boyish? I suppose I'll let their parents decide.