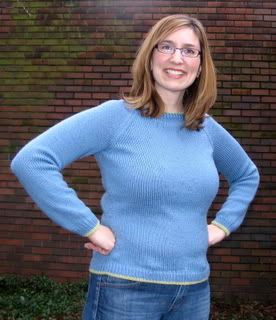 Jemima, My Fashionable Life
RYC CashSoft DK, Ballad Blue and Lime
Addi Turbos, US6 and US8
Photos and art direction by various second grade students

It all started with the yarn. I bought the CashSoft on eBay with an entirely different project in mind, but later decided it wasn't for me after all. Soon after, I saw Jemima, a cozy, whimsical top that called for the exact same yarn. Bingo.

Except that I wanted it to be more fitted, longer and have waist shaping. So I used the pattern for my VK Shawl Collar Pullover for the length and shaping of the lower half of the sweater.

Then I decided that I would never find buttons that I liked or that matched the yarn well. Mom was a seamstress when I was young and I learned that buttons can make or break a garment. I talked to her about it and decided that it would be best to ixnay the button placket altogether.

So, you see, this really isn't a Jemima anymore.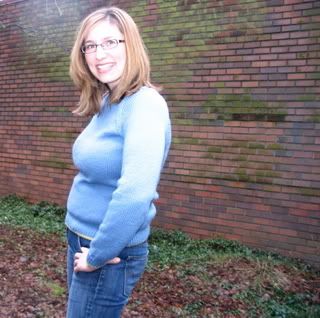 This was my first time with the tubular cast-on and I loved it. I learned how to do a tubular bind off from Jody; her tutorial is fantastic.

As soon as I put it on, I loved the feel of the fabric; this yarn at this gauge produces a lovely drapey fabric. So warm and soft! Right now it feels very comfortable, like a luxurious sweatshirt for a cool, casual day. The arm hole fits me really well. I think that's what I'm trying to say... whenever I buy ready-to-wear anything (tops, bathing suits, wedding dress), I have to shorten the straps; they're always too long on me. I ended up with a short armhole for my short torso, yay!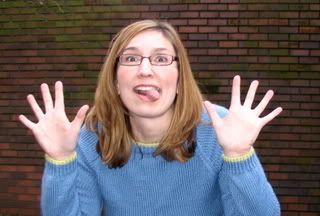 In the end, it's not my favorite sweater, but they can't all be favorites. I think I'll like it even more next fall when I'm done nursing and am all the way back in shape.