Dear Erika Knight,

Are you insane? Or are you a genius?

The first "Dainty Baby Bootee" I made, of the pair, propelled me to use not so dainty language. Cut yarn here, pick up stitches there. Create a free-form sculpture that somewhat resembles an octopus. WTF??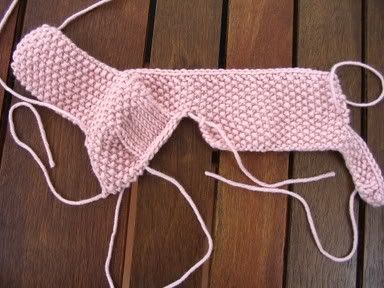 But the second one went along much, much more smoothly. I started seeing the logic behind the insanity, and the final result made me think that perhaps you knew what you were talking about after all.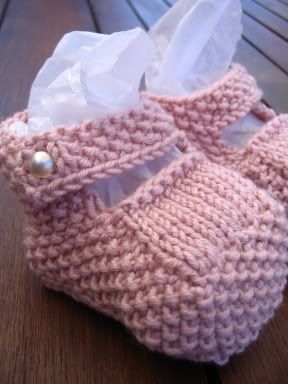 Fortunately, the "Lacy Bonnet", which I made before the "loony bootees", made complete sense from stitch one and was a joy to knit. The rosette shape at the crown is absolutely gorgeous. The lacy pattern that makes up the rest of the bonnet has a wonderful repetitive flow; I started wondering if the lace were something like Orangina's. The only problem was the ribbon. The example in the book has one attach a head-sized ribbon rosette on each side, which is very beautiful to photograph, but very unrealistic for most of the babies I know. Also, it was tough to find a ribbon color that I liked with this dusty pink yarn, so I went with the antique white to pick up the pearly buttons (stitched on so firmly that no baby will ever be able to pull off) on the bootees.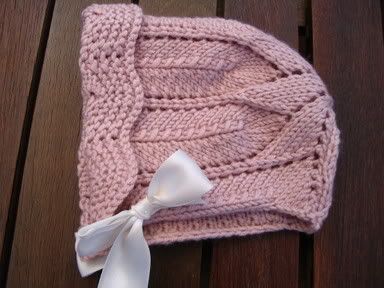 Thank you for your designs, Ms. Knight. I'm sorry I thought you were crazy.

Sincerely,
Karma

P.S. The gifties were a big hit at the baby shower today. Everyone thought I was a genius.

P.P.S. Lacy Bonnet and Dainty Bootees,
Knitting For Two by Erika Knight
Debbie Bliss Baby Cashmerino, pink, 1 skein for all
#4 bamboo straights (that's another agonizing story in itself, what the heck am I doing with bamboo straights anymore for goodness sake, pass the addis!!!)