Hello. Remember me?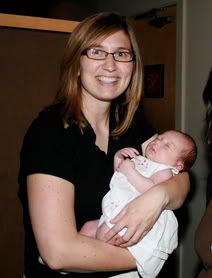 Baby A and I have kept ourselves very busy and I'm actually getting a few rows of knitting in here and there. I've been (mostly) keeping up on reading all of your blogs, but somehow posting to my own blog hasn't happened. A and I are starting to get into some routines, though, so maybe it will be easier now.
Baby stuff: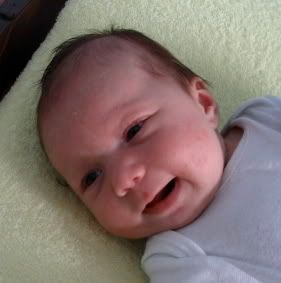 She's seven weeks old and smiles and coos like crazy. She's sleeping through the night! Eight hours straight last night! She has these amazing big blue eyes; when we stare at each other (and I'm singing goofy made up songs and such), I can see her soaking up every little thing in her world. Anyway, we absolutely adore her and once in a while we look at each other and say, "Woah. We
made
her!" It's a trip and a half.
Knitting stuff: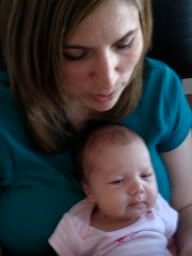 Here I am, knitting with baby in my lap. It's almost the only time I can knit unless she's napping. It's easier with the napping, lemme tellya. I'm still lumbering along on Duke. Duke is the name I gave to this little green baby sweater, which is truly Daisy from Knitty, just like the red one I made for A, but it's for her little buddy Jack, so I thought I'd give it a dude name. A's Daisy whipped up so quickly... this one is taking weeks because it's hard to find time to knit. But I'm almost done! I'm on the second sleeve!
Since I have so much time to knit and so few projects to work on (snort), I finally ordered the Schoeller Stahl Merino Stretch to make this cabled cardi. Every time Elann posts more of this yarn, it catches my eye and I wish for it, but then I look over at my stash and my long list of projects and step away from the computer. This time I decided that since it *still* catches my eye after all this time, it must be for me.
The new IK is yucky. I'm super disappointed. I haven't seen much chitchat about it in blogs, either. The new VK is better... at least, there are a few things I could imagine knitting and wearing. The Gray's Anatomy section is lovely. I'm also lusting for design #3, the violety/maroony deep v-neck pullover with lace details. It reminds me of one of the newer Glampyre designs. I think that, at least with the VK sweater, I would need to make the v-neck less deep to go with my bod. As it is, I can imagine my impressive breasts popping right out of the front of the neckline. So modifying that has been running through my brain. Because I have so much knitting time. (snort)
Okay, just one more sweet baby picture to say goodbye. In this one, A is showing that she truly is her daddy's little girl: she has the same crooked smile.