The Ribs

I finished the second Rib and Cable Sock pretty quickly, I must say! They've been sitting here patiently, waiting for me to share. Just in time; the weather is forecast to be in the high 70s all week.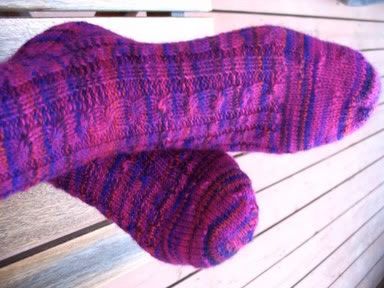 Rib and Cable Socks by Nancy Bush
Interweave Knits, Fall 2005
Mountain Colors Bearfoot: Wildflowers
Addi Turbos US1

I really liked this pattern a lot. It's only the second pair of socks I've knit for myself and they're a super fit. Either I'm getting used to placket and flap heels, or this one was just very well written and relatively easy to do. The toe is the 5 point toe from Knitting Vintage Socks and is just lovely.

The Robot

On to the robot. (backstory) I'm trying not to say, "I told you so," at all to Mr. Goodkarma, but he is returning the robot. The robot was pretty expensive, even though he bought a refurbished model, and I thought it was a ridiculous expense for such a basic function in life. However, since he was really, really excited about a litter box that would keep itself clean while I'm not allowed to clean it, I left it up to him.

- The entrance to the robot is smaller and narrower than the entrance to our normal litter box with lid.
- I think the inside is also smaller; it's just the globe part of the top that your cat goes into.
- I saw Lennon use it several times and he's the bigger cat! He's very easy going as long as there's a steady food supply.
- Julian only used it once or twice. He really avoided the robot.
- The noises and motions were weird... Lennon got used to them but Julian never trusted the thing. He's more skittish.
- Finally, sometimes when Lennon used the box, the way he positioned his body was... well, as if there were no litter box at all. He pointed his tail out the door and sprayed! Ack! Fortunately, in the place where the litter box is we currently have old carpet that's going to be replaced, but it's still disconcerting (not to mention smelly) to see a spray of cat piss coming out of the entrance of the litter robot onto the carpet.

Enough of that. Bye bye, Darth Vader Robot!

The Really Big Belly

And now what you've all been asking for.... a belly picture. First off, let me say how fortunate I feel to be pregnant and how much I am looking forward to knowing this little peanut that's growing inside me. However, and I know I've mentioned this before, but the whole pregnancy/weight gain/body morph thing has been really, really psychologically bizarre for me. Some women say that their pregnancy was the best time of their life, they loved it, bladdyblahblah. My pregnancy has been relatively easy and I'm feeling pretty good physically, but I guess I'm so used to working hard to lose weight when I was heavier and working hard to become more fit, that this is not the golden goddess time of my life.

Click here to read my Invasion of the Body Snatchers post, including a before picture and a 24 week picture. And now I present a 34 week picture taken a week ago at a baby shower: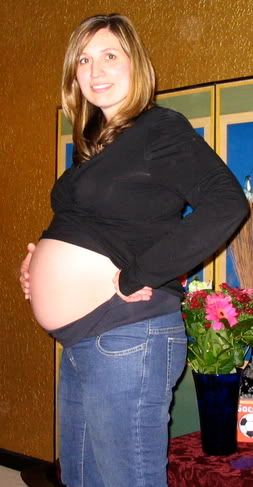 So the countdown is progressing... about five weeks until Baby Karma makes an appearance! My midwife today told me it could really be any time, but she hopes I'll stay pregnant for at least two more weeks. Wish me luck!