Yay! Mail!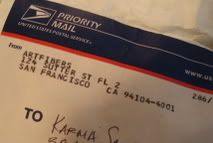 Have you ever shopped at the ArtFibers site? It reminds me of a friend of a friend who is an absolute artistic genius and who put her own portfolio together. The portfolio is chock full of Gorgeous art and Unique designs, but could have been stapled a little tighter or the pencil marks erased a little more completely. I'm so not complaining. I loved browsing their stuff. They use Flash, which is so cool, but the site doesn't perform quite as smoothly as it could.

The reason I'm telling you this is that I decided, after all of your input, to make the Corkscrew Scarf from Loop D Loop for my favorite future SIL. I thought it would be perfectly lux in some ArtFibers Kyoto. I decided that simply via word of mouth. I've never seen the stuff, just googled and read other folks' reviews and took their word for it. I hoped there'd be a pretty turquoisy blue, which is FFSIL's favorite color. I picked the blue that most appealed to me... wasn't really turquoisy looking, but I thought I'd chance it anyway.

Look at what I got: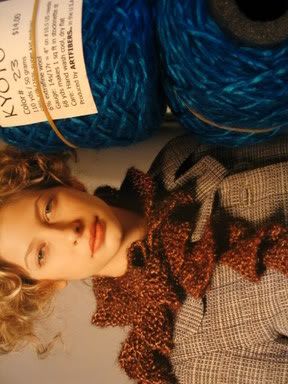 I couldn't have dreamed up a more perfect combination of fibers (silk/mohair/wool), gauge, color, texture for this scarf. It's So Rich. It's even better than I hoped it would be. It's the perfect shade of turquoise, too. Sadly, photography (indoors in the evening in Seattle) does not do this yarn justice. Thank you so much, ArtFibers!

See, just like the genius artistic friend of a friend, the product is even more than I could have imagined, website/portfolio wonky or not. And maybe it was just my Mac that didn't like to interface? Who knows. I'm thrilled and will go back for sure! I can't work with this fabulous yarn without coveting *something* out of it for myself!