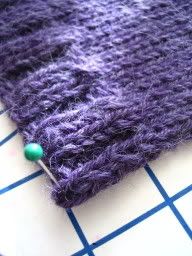 Shawl Collared Pullover is happily blocking away with its own little ray of sunshine (they're hard to come by over here) and yes, it's true that wet alpaca really does smell like wet dog. Mmmm. Yummy. I hope it dries soon; I keep laughing when I think of what this sweater's going to look like on my daily-increasing belly. Fortunately, people have good imaginations and will probably be able to imagine what it will look like on me next fall, right? :)
Our trip to Vancouver was lovely and quite uneventful. Perfect. We stayed right downtown and walked all over the place. Ate good food. Saw two good movies (
Firewall
was intensely suspenseful;
Syriana
was complex, political, and kept us talking and thinking well after we left the theater). Touched no yarn. I didn't even knit in the car on the way up or down. It seemed important to be more present, enjoying the scenery and conversation with Mr. Goodkarma. It was a good time!
But you know how I am; as soon as Shawl Collar was off the needles and in the bath I was itching to cast on something new. For a minute I considered going to one of my stalled projects but no, I had to start something new. That's a lesson for me; do NOT leave a project unfinished or it may never ever ever see the light of day again.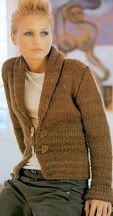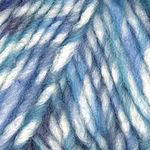 Elann had this Schoeller Stahl Excellent yarn for a few days. I kept looking at the sample pattern and thinking about how cute it would have looked on me about 5 months ago when I still had a waist. The available colors were selling out quickly; the one I was eyeballing was a darker combination of blues, but I was only able to pick up this lighter combination instead.
While I wait for my Excellent yarn (can't say it without thinking of Bill and Ted), I dove into my Rowan Cashsoft DK for Jemima. This pattern utilizes a tubular cast-on, and this is the first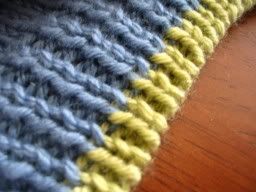 time I've ever used one. I wish I had tried it before! So clever and neat. Totally tubular. (Valley Girl.) I knit the cuff and an inch or two of sleeve before bedtime and then was suddenly struck with a wave of incompetence. Would it look ridiculous on me? Would the color combo look homemade? Wouldn't this absolutely luscious yarn look better in something more pretty and less everyday? Naturally I stayed up way too late searching for ideas for what other knitbloggers had done with Cashsoft. I don't have a lot of it (7 balls of Ballad Blue, 1 ball of Lime). Of course I saw many, many posts about Grumperina's Odessa, but I really want to wear this yarn on my body, not my head! I hit the pillow feeling defeated. Why do I always have to find a solution immediately anyway? Grrr.
I woke up this morning with an image of a sweet, finished Jemima. My imaginary version is a little more fitted than the original oversized one.
Mari
made a super cute one herself. I think I'll stick with the plan. If you haven't worked with Cashsoft yet, you're in for a treat!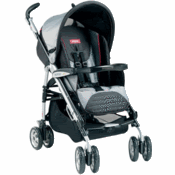 And in the Husbands Are Funny Department: I got a great deal on last year's model of an expensive stroller. When it arrived the other day, I started taking it out of the box. Now, my husband is great, but he hasn't been super excited about anything baby related yet. As soon as parts started coming out of the box, though, he jumped up off the couch and started assembling the thing before I even had a chance to open the directions. I started reading instructions aloud but I might as well have been on another planet; he was so involved in snapping pieces together that he didn't even hear me. "Oooh, it even has shocks." "Nice wheels!" I'll be checking it out soon to make sure all the pieces were used, etc...