Well. I fell off the blog planet for a couple of weeks after finishing the February Baby Sweater. It's been a busy time, though...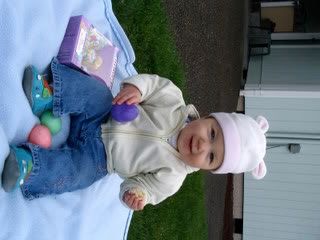 Baby A had her first Easter egg hunt. The other children were running around, loading up their baskets with piles of eggs and we were very excited with the three that we found. The eggs made a noise when we shook them! Yay! So much fun. This egg hunt was on a farm way out in the country and Peanut got to meet her first horse that day, too. Seeing things for the first time all over again is such a gift.
The following week, she had pink eye and an ear infection. So. Miserable. I don't have pictures to show you and you wouldn't want to see them, anyway.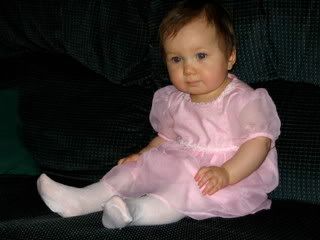 Then came the real Easter day. Church service with grandma and grandpa and a pretty pretty dress. She was feeling much better by then. After Easter, I had spring break. With spring break and a few "sick days" off with the Peanut, I haven't been at work for almost two weeks! Lots of time to knit, right? ... kind of ... I really wanted to knit
Wren
during spring break but what I have done is come *this* close to finishing the
Excellent Jacket
.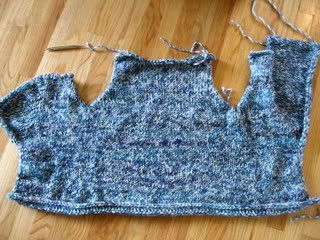 The sleeves were done first. Since it's such a chunky garment, I decided to knit the body all in one piece to avoid the bulk of side seams. Now I just have to pray that it fits the way I hope it will!
Next up, Wren. Also? I've decided that I have too many stalled projects and I'm going to finish one old project for every new one. So I might actually have something else to show you before Wren gets too far off the starting block.