The other day, I came home and there was this Amazon.com box sitting inside the door.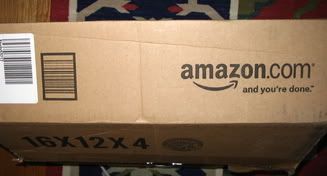 Knowing that I hadn't ordered anything from Amazon lately, I ignored it and went about my evening. A few hours later, when Mr. Goodkarma and I were relaxing and watching a movie, I asked him, "Hey, what didya order from Amazon?" Of course, he says, "That's not mine, it's for you!" Puzzled, I picked up the box. As soon as I saw
Moni's
name as the sender, I knew just what it was!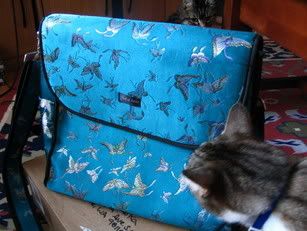 You see, last summer, I was having a pedi at my neighborhood nail place and a woman was there with a gorgeous silk embroidered messenger bag. Hers was red. I had to ask her where she got it, it was so beautiful. Do you know what she said? It was a DIAPER BAG. Get OUT! Shortly after that, Moni bought a similar, beautiful DIAPER BAG to use as a knitting bag. When I saw it on her blog, I was jealous. So pretty.
As it turns out, Moni didn't use it much (it looks absolutely brand new!) and decided to be a good fairy godmother and send it to me when she found out I was pregnant. Happy me! How lucky am I?! Oh joy! I love it. Apparently, so do my cats! They thought it was pretty and smelled good, too.
Thank you, Moni. You're such a good buddy. :) Mwah!!!