Busy busy. That's me. I'm halfway done with a project I haven't even blogged about. I'm making the Adrienne Vittadini Shawl Collar Pullover from Vogue Knits Winter 04/05 (here are a couple of finished ones in blogland: Lesley's, Atouria's, and Diana's) with some lovely purple heathered Cascade Lana d'Oro.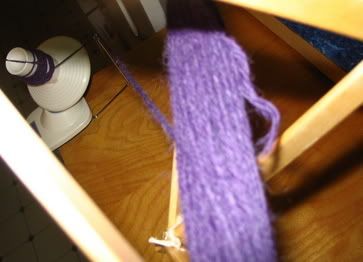 I bought a bag of it from WEBS when it was discontinued about a year and a half ago, with a different project in mind. I was a pretty new knitter and realized later that the project I was planning wasn't really meant for me. I've wanted to make this for a year and suddenly got the urge to start a week or so ago. Quick knit... I'm almost halfway done already.

Here's the front; just after I'd divided for the low placket opening: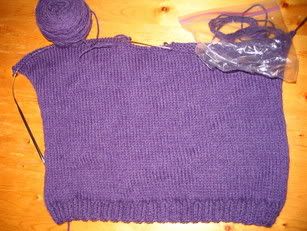 It feels like this sweater is just eating up the yarn, but it might simply be that it's one of the quickest sweaters I've ever knit. I wonder if it will be done in time for me to wear it while I'm still pregnant? Probably not. Even though other people say I'm not even showing (I am SO!), all of my old tops are too snug and too short to accommodate my changing figure. We'll see. Mostly I'm excited about having new stuff to wear next fall.



The title to this post is I love purple because the lovely Jade sent this pair of handmade earrings with purple crystals to me. She knew I like blue (I'm a little stuck in the cool side of the color wheel lately if you haven't noticed), and wasn't sure if I like purple. Do I like purple?! Oh boy. Yes, my new sweater is purple. But get this: my husband's truck is purple. My house is purple. Both are dark eggplant purple. What else... I have more purple yarn around here, too. So yes, Jade, I do like purple, and the earrings are so pretty!! (Especially with the bonus alpaca fiber in the picture. Ever notice that alpaca fibers and cat hairs look pretty similar?) I wore them to work today and love them. You're so kind. Thank you. :)
Tonight I went to the gym (for the first time in ages) and I listened to
Cast On
podcast #1 as I stationary bicycled. I downloaded several of these a while back and kind of forgot about them. This podcast was interesting (especially for the gym... I usually listen to something more upbeat like Outkast's Stankonia or Black Eyed Peas' Elephunk), and very soothing. I could imagine listening to Brenda Dayne's voice on a lazy Sunday afternoon while I knit on the couch in a quiet and peaceful house. Wow, what a fantasy life, eh? So for those of you who listen to Cast On and
Knitcast
, do you save each podcast or delete them as you listen to them?