I brought the Shawl Collar Pullover to my mom's house for a visit a few days ago. Guess who it fit perfectly? Grr. Jealous? Me? Hmph. She said she wants "hers" to have longer sleeves, though. Nudge, nudge, wink, wink.

Guess who I'm planning to meet tomorrow for the first time? I'll give you a hint. You might know her by her purly whites. And she dyes really beautiful yarn! We've been chatting for ages about meeting up sometime to knit and we finally made plans for tomorrow, after my yoga class. Can't wait!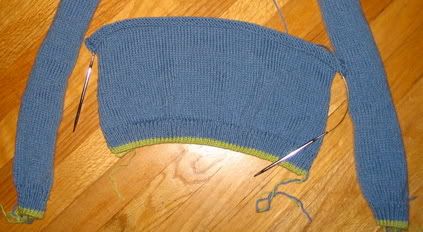 I'm still in love with Jemima + Rowan Cashsoft DK + Addi Turbos. I finally found a good solution for Jemima, too. I've been mentally tinkering with how to add length and waist shaping, possibly keeping the lovely tubular cast-on and subsequent ribbing, without having the puckering at the hip problem. Wanna know what I'm doing? I'm using the directions for Shawl Collar Pullover for the bottom half of Jemima! I'm also thinking of ixnaying the placket and buttons. I don't think I'll ever find buttons that will match my colors, and I hate that poorly matched buttons might make the whole sweater look cheesy. So now, is this still Jemima? Maybe her name will change to Jemi-not. Or something equally dorky. 'Cause that's how I roll. har har.

I had to buy a new bra today. In a new (read: bigger) size. And dangit, the lovely associate at Nordstrom wasn't convinced that I'm done growing in bra sizes. She thinks I should come back again a couple of weeks before my due date and get fitted AGAIN. Like expensive supportive bras for girls like me grow on trees. Aiya. Whatareyagonnado.

Have you heard of mail2web.com? Maybe I'm the last girl on earth to find out about it. I thought I'd never be able to access my home email on the web (what a pain when you're traveling, out and about, at work expecting an important message to come to your home email addy, etc.) and the Mr. just found out about this one. Cool.