Hello, my name is Karma and I am the luckiest girl in blogland! I'm sitting here waiting for peanut to be born, knitting, house cleaning, relaxing... the most exciting thing is when the mail carrier comes. Usually the best part of the mail being delivered is that a new DVD comes from Netflix, but that's not a surprise because I picked out what's coming.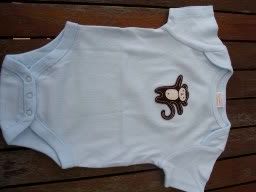 Last week, the same day I had to say goodbye to my Julian kitty boy, I got a little package from Superstarra Christie. Isn't this the cutest thing? Not only is the monkey probably a spitting image of the alien that is growing inside me, but the color combo is so NOW. So brownand (hi Cathi!). I will have the best dressed baby on the block, lemme tellya! It couldn't have come on a better day. I was so emotional about my kitty and there was this sweetness in my mailbox.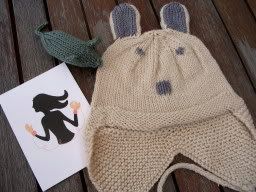 Today, when I'm truly on maternity leave and getting used to my days being pretty uneventful, a package came from Meredith at Mer Knits!. She made an extra cute Winnie the Pooh hat for the peanut, but says it can be any bear, or even a dog, or her husband says it can even be a camel! What a joker. Guys really know just what to say, don't they? Heh.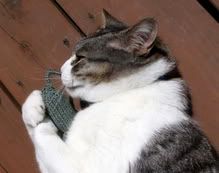 She also included a little sweetness for Lennon. Notice how excited he is to have a new mouse to play with! He literally just killed his last (store-bought) mouse this week. So Mer's new mouse couldn't have come at a better time.
Finally, thanks to everyone who left such kind comments to my post last week about Julian. It was really hard to say goodbye to him... his health deteriorated pretty rapidly so it was a little shocking for me. As much as I miss him, I feel better about my decision to let him go since he was feeling so badly. At the very end they diagnosed him with a brain tumor, possibly cancerous. Poor little boy.