November is always a busy bee time for me. But inbetween the parent conferences and holiday prep I have found little bits of time to knit.

I went to Portland with my girlfriends and had so much fun. It was my first time away from the peanut and the timing was perfect. I went to Close Knit and bought the Peruvia for my Tilted Duster. Sally, the owner of the shop, is wonderful. I had such a good experience there. Another woman who worked there offered to wind up my yarn for me, without my asking. I told her one skein would be plenty for me to start swatching with but she insisted on winding at least two. I've never experienced that at a yarn shop before.




I finally got to meet Blue Garter Sarah that same day. Sarah is just as intelligent, graceful, witty, and fun as you think she is. She has such an interesting story to tell and I loved having some time to chat together at dinner.


My Peruvia swatch is lovely. I'm trying out the recommended size US10 needles and they feel like big Lincoln Logs in my hands compared to the very reasonably sized US4s I'm using for the Tangled Yoke. But the camera has a really hard time capturing the nuances of this color: Aquamarina 7143. It's a rich, deep teal color which, at first glance appears to be solid, yet a good bit of sunlight reveals the subtle blues and greens. In this photo, the color appears much brighter than it should, but you can see those color variations better.
I'm coming along with my
Tangled Yoke Cardi
, as well. The yarn is
Elsebeth Lavold Silky Wool
in Graphite, reclaimed from the
Not So Shrunken Cardi
that never was. This yarn is lovely to knit with. I made The World's Biggest Swatch because I wanted to try it out on four different needle sizes and I enjoyed each of the different fabrics that resulted. At first, the garter rib was a pain because all the action happens on the wrong side where you can't see if you're lining up your knits and purls properly. But it didn't take long to fall into the rhythm of the pattern and start to admire the way the waist decreases disappeared into the faux side seam. I'm just now finishing up the ribbing at the hem and beginning the miles and miles of stockinette stitch for the body. Should be just the thing to knit during the new episodes of
Project Runway
!
Also, I've finished the
Excellent Jacket
but need to block it and figure out how to close it. Hopefully I'll be sharing that soon, too!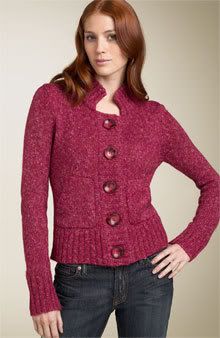 Here's a bit of a puzzle for you... you know my issues/lack of confidence with choosing the right size pattern for myself... my brother gave me this cute cardi for my birthday, which measures 36" at the bust. It's a great fit, there's no button band gaping. Most of my sweaters and cardis have negative ease. I am a 34 F, so I have a smallish torso in relation to my cup size, and a 39-40" bust measurement. Help! I'm waffling about the Tilted Duster. Since it's a bulkier yarn and an outer layer garment, I'm leaning toward the 40.5" size. Plus, the versions I've seen around Ravelry where the front points don't match up well or the size seems too small are very off-putting to me. However, I don't want to swim in the thing! Norah Gaughan recommended a little ease, maybe an inch or so, so again, the 40.5 seems right. Any advice?


Oh yes, I did mention my birthday. It was on 11/14... and I got myself the best birthday present of all: meet my lovely little MacBook! So helpful for working on National Board Certification wherever I happen to be. Nice to have my online and electronic knitting patterns, etc., right at my fingertips when I'm lounging in the living room. And thank you to the people in my neighborhood who, even though I do pay for DSL, have an unlocked wireless network that helps me zip about the 'nets as fast as you please. (Is that wrong?)
My MacBook is accessorized by the cuff of a mitten. Holiday pressies that I will reveal later.
Happy Thanksgiving! May you be surrounded by loved ones and blessings all weekend. I'm bringing the scrumptious Sweet Potato and Sausage Gratin with Thyme to my mom's house today. So yummy. Here's a snap before it's plopped in the oven.