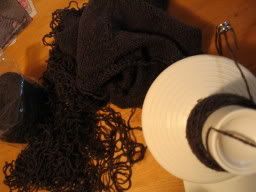 When I reported that I'd be ripping back a bit on my Not So Shrunken Cardi, Wendy suggested that I take this time to try it on. She's so wise. It was way too big. Especially in the armholes. And then if you add a button band at the end, it would be way too big all around. I'm so glad I tried it on at this point...

I have a huge debate with myself regarding size every time I start a new project. I have a smallish torso (compared to my bust measurement), so choosing the wrong size often means that either the garment totally swims on me or that it pulls across the boobage. Luckily, when I start the Not So Shrunken at a smaller size, I can still make decreases for the waist and sleeves. Wendy made the pattern really easy to customize. If only I'd made the right size to begin with! Ha!

No worries, I'm on a road trip to Portland, Oregon this weekend with my girlfriends for our annual cocktails-massage-shopping fest. I'm not the driver, so I'll get lots of knitting time in!