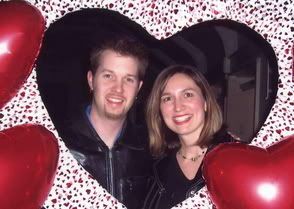 Woah. I just looked up and realized I haven't blogged for over a week. I've been busy busy. Mr. Goodkarma and I went to a Valentine's dinner and dance. Aww, mwah! We had a fun time. This was our 7th Valentine's Day together, hard to believe but true.


Last weekend we hung out with lots of different friends. It was a jam packed socializing weekend. I think I might be Lolly's sistah from anothah mothah; never met the gal but I also went bowling last weekend... which is interesting because I go about twice a decade. This time we had a lot of fun -- we went to Leilani Lanes in Greenwood where they were playing loud 80's music the whole time! -- and I wouldn't mind doing it again sometime sooner.

I went to visit this sweetie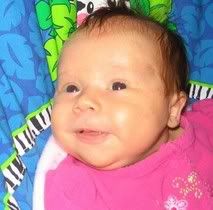 of Snuggly Anya fame. She lives in Eugene with her mom and dad and I spent a few days with them. We had a great time! Let me tell you, Eugene has great food! Yummy pastries! And I got a facial. Much needed. These are the tips I was given to follow:
1. Stop washing my face with hot water.
2. Stop using cheapo St. Yves scrub. It has SQUARE molecules. Who knew?
3. Stop moisturizing my nose. It's a big ole oil gland and adding moisturizer = black heads. Eww.

I've also been working on Mariah. I even have proof. Here's the back (bunched up on a stitch holder), left front and a sleeve: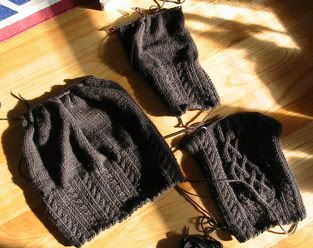 And a close-up of the sleeve, just 'cause it looks so groovy: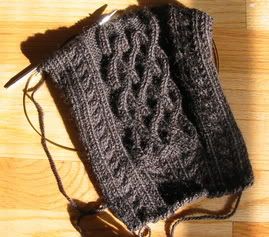 I'm really enjoying the pattern. It took me a little while to get used to the sleeve's center cabling pattern but now it feels much more rhythmic and natural. And I'm doing this whole project without a cable needle. That's rad. Oops, no one says that anymore. I must've spent too much time at 80's bowling.