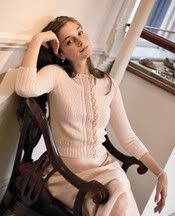 Just received the new Spring 05 IWK in the mailbox today. I liked a few patterns, especially this Vintage Pink Cardigan by Norah Gaughan. As I finish up a couple of worsted weight, wooly, casual, sporty projects, I feel like choosing more feminine projects. This is so pretty, like some of the designs that I like from Vintage Knits.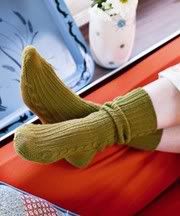 Socks... I want to make socks, and I noticed that Liz was making these Cable Rib Socks, which definitely appeal to me. I haven't made socks yet. I started making Elann's plain toe-up socks for Mr. Goodkarma for Christmas, but didn't get very far and kind of put them aside. I guess I'm a selfish knitter.



Something about this Wear Everywhere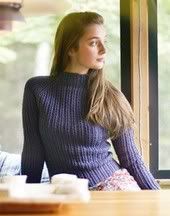 Pullover appeals to me, too, and I think it's the fittedness of it and the interesting ribbing. But is it special enough to want to spend a month of my time on? Hm. Maybe! It could be really flattering.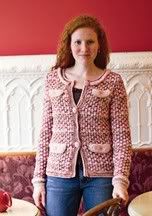 Finally, I'm not sure if I like this Border on the Extravagant jacket or not. Tweed is so "it" right now, and this does fit in with my femmy category. But I'm not a big fan of novelty yarns. And would it look frumpy on me? Hmm. Enquiring minds want to know.

My project list is a mile long as it is!