Before I get to the good stuff, I need advice. I won an auction on eBay.de (Germany) and the seller doesn't know anything about PayPal. Do any of you know of easy, speedy alternatives? I checked out Western Union and it would cost about $20 to send 9.50 Euros. HUH? Help! Worst case, I'll mail her a money order, and I'll receive my package around December. Ha!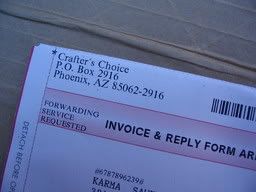 Look what was on my porch when I got home today! Yay! Books!









I got Loop-D-Loop, which is the one I'm most excited about, plus Knitted Toys (good to have around for gifts and such), Simple Socks, Big Book of Knitting Stitch Patterns, Ann Budd's Book of Sweater Patterns and Yarn Requirements. That ought to keep me busy for a while. I've definitely hit a point where I have more books and magazines than I'll ever use, but that's kind of fun.



There was also a weird, very plasticy (you know that smell) little tote stuck in the bottom of the box, plus a sample. Calcium samples? Hm.