Yay! School's out, so in between summer science courses, doctor appointments, home organization projects, planning for our vacation, etc., I'm ready to catch up on knitting. I promise to have knitting news in the next couple of days.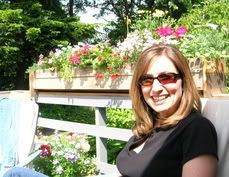 In the meantime, I have some fun pics to share. A couple of weeks ago, we had a big birthday bash for my younger step-sister. She's 24 and drank way too much, so the only picture I have of her is very,

very unflattering and not fit to share. :) But here I am sitting on my mom's deck in the back yard. She has an amazing flower garden. Here's my Mr. Goodkarma in the one picture where he doesn't look stoned. That's a special talent of his. I suspect this one looks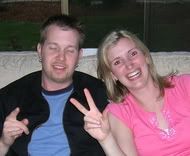 okay because he's wearing his shades.... cause here's one where he's posing with my other stepsister, and what did I tell you? Stoner-looking husband.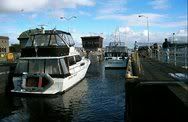 On Father's Day, my brother and I took our dad to the Hiram M. Chittenden Locks (known to Seattleites as the Ballard Locks). Dad used to take us there all the time when we were kids. Any trip to Seattle would be complete with a visit... the locks themselves were engineered and built by the Army Corps of Engineers way back in 1917 as a way of allowing boats to travel between the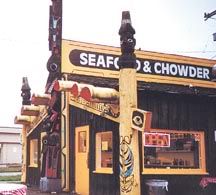 Puget Sound (saltwater) and Lake Washington (fresh water). Now it's a fun place to watch the sailboats pass through. Also, there is a fish ladder to assist the salmon in returning to their origins to spawn, and you can see them rushing up the ladder, against the current, through big underground windows. The Locks also has gorgeous botanical gardens and lawns, isn't far at all from Golden Gardens and Shilshole, in case anyone wants some beach time. And across the street you get to eat fish and chips at the Totem House, making family recipes since 1948. Yum yum!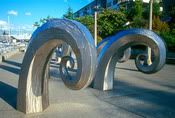 We saw this newish outdoor sculpture there, photo from the Roddy Scheer website.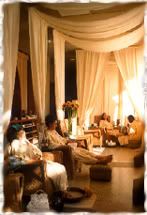 This week I was fortunate enough to receive a fat gift certificate to one of my favorite spas in town, Ummelina. A couple of parents got my whole class together to chip in and buy a gift certificate for me, isn't that thoughtful?! Wow, BIG surprise!! So I went on Monday night with a couple of girlfriends and had a fabulous facial. I still have money left to go toward a massage... their massages are The Best I've Ever Had. Probably because the whole place is lux and you get to go through several steps of relaxation, including a shower beforehand in a room with many showerheads, heated comfy massage tables, warm neck pillows afterward in the tranquility room, etc. Sigh...



And what should appear in my mailbox today from Overstock.com? Yay! I bought Last-Minute Knitted Gifts because of all the Hourglass Sweaters I've seen; I hadn't even looked at all the other patterns in the book. I'm impressed with the layout and design of the book and there are actually a few things I will make; looks like a good book to have on hand for gift ideas. And Knitting On the Road has been calling to me ever since I checked it out from the library a couple months ago.

Maybe tomorrow my Crafters Choice books will arrive. Yes, I signed up a week or so ago, mostly because they offered Loop-D-Loop, which I really, really want!