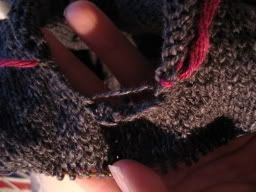 Well, life is moving right along. One minute, it's summertime and you're too sweaty to knit wool, next thing you know it's almost Halloween. Woah, Nelly! I've been knitting along on Not-So-Shrunken Cardi, and finally got to the point where I separated for the sleeves. Knit, knit, knit. Oops. Do you see where I cast-on extra stitches at the armpits and left some strange lonely strand that doesn't stretch as much as the stitches do? D'oh. I'll be ripping back and re-casting those stitches. At the same time, I'm loving the fabric this yarn is making and, even though the yarn can be splitty if you don't watch what you're doing, I'm really enjoying this project so far.



NEWS FLASH
We must interrupt this program to bring a late breaking news announcement.
The knitting content of this program will resume momentarily.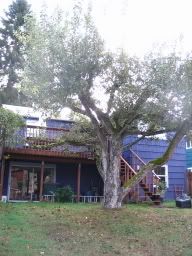 This weekend we broke ground for our new garage. See Exhibit A: our back yard for the past 53 years. Yes, my house is purple. Notice the enormous, ancient, non-producing apple tree that causes Mr. Goodkarma to curse and sweat when he prunes it every year? Those branches grow vertically for a good 20 feet. Higher. Than. They. Already. Are.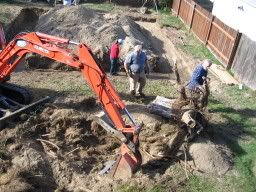 Exhibit B: the tree was felled, causing Mr. Goodkarma to secretly whoop it up and inwardly shout Hallelujah!... I say inwardly because Mrs. Goodkarma was really fond of the shade and privacy that tree gave to our deck. Also, it made a really good anchor point for my hammock. Oh well... the tree made way for a garage and a big ass tractor was brought in to pull out the trunk and to dig up our land to make the foundation for the garage.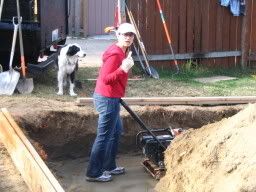 Exhibit C: I got to be one of the guys! I should say MEN. I've been the only woman at my house all week, greatly outnumbered by men: father-in-law and his two brothers are running the show, Mr. Goodkarma and his brother and a friend are helping out, my dad and brother were here last weekend to take down the old apple tree and old shed. So I got to learn things like "running the packer", as shown in this photo. It's shaped like a lawn mower, but much much much heavier and louder, and packs down the soil so we can pour concrete later. It's like a huge, industrial strength vibrator. As you can see, I'm #1. Snort.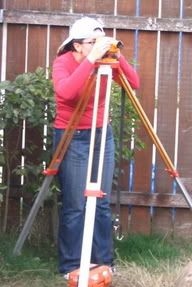 I also got to dig dirt, hammer, etc. etc. and be the surveyor! I loved this part of the job. You look through the lens -- like a binocular -- and can focus on your buddy's tape measure many many feet away and tell exactly how high something is. Oh yeah, and I learned how to talk like a GUY. When something measures perfectly, for example, you shout, "Holy balls!" I got really good at that one.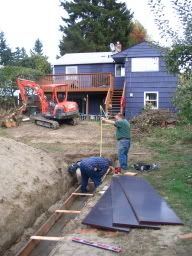 Finally, we ended our day by building forms for the concrete. Do you see the big pile o' dirt in the center? I dubbed it Mount Garagemore. See my FIL holding up the tape measure? That's what I was aiming the "binocular" at. Next we wait for an inspector to come and, hopefully, exclaim "Holy balls!", which would mean that everything's perfect and we're ready to pour cement. Next weekend.
We now return to our knitting program, already in progress...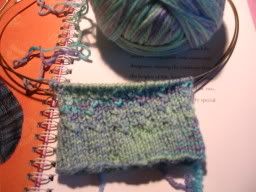 So I finally tried to knit a sock on two circs today... I love it! I've only knit baby socks and booties so far, with dpns or flat, and this is so much better, more fluid, etc. I'm knitting the Conwy socks from Knitting on the Road, along with the KOTR KAL, which has the cutest button on earth. Take a look at my sidebar if you haven't seen it.
This picture of my new sock is totally craptastic: evening indoor light and all. Really, it's a very lovely colorway of Lorna's Laces called Georgetown with pretty blues, greens and purples all melding together. Love it! Now if life could just slow down for a week or two (or ten) so I could get some knitting done...