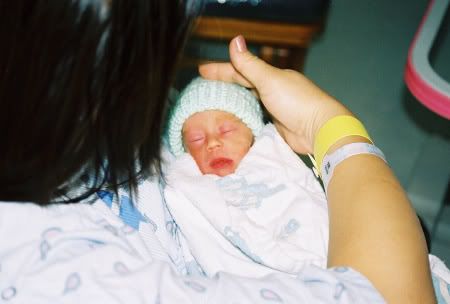 Introducing Lindsay Ella, born this week, seven weeks early. She weighed 2 pounds, 11 ounces, was 15 inches long, and is breathing and eating well. So far, she isn't having any of the complications preemies often have (fingers crossed). Her mama is a friend I've known for a long, long time, and she is the bebe I knit the Dainty Bonnet and Booties for.

I can't believe how small! If you can tell from the picture, Lindsay just looks teeny in her mama's arms. And her mama is a very petite lady as it is! Lindsay lives in California, so I haven't met her yet. I'm wondering if any of you have had preemies or know those who have, and have any advice on preemie knitting patterns or what a preemie might need in general; I'd like to send a care package down to her.

In other news, I'm chugging along on my Silky Wool Not-So-Shrunken Cardi; I was excited when I finished my first skein and got to spit splice the next one on. This puppy will have nearly no ends to weave in. I wish all fibers allowed that technique; the last couple of things I've been knitting didn't have wool content. I predict I'll be able to separate the yoke for the sleeves this weekend! Yay!