First of all, thank you to all of you who keep saying that the peanut looks just like me. It makes me giddy to hear you say that. Not because I'm a narcissist, but because of this: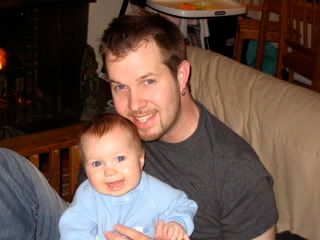 Now. Do you still think she looks just like me?
Anywho, I've got this crazy, mixed up extended family that I felt really close with when I was growing up. They were far from perfect and quite disfunctional, but they were mine. But now that I'm a grown up they're all having grudges and arguments and he-said she-said and not speaking to one another. So peanut hasn't even met, for example, my mom's sister who was my super favorite aunt when I was a girl.
This all makes me v. sad, but it's part of this crazy world in which we live. So I've been giving a lot of thought lately to the kind of childhood I want to help peanut have, and to very intentionally creating new traditions in our own little family.
Some of my warmest memories are sewing, crafting, cooking with my mom. Also, we would make a gigantic bowl of popcorn, snuggle under a big blanket, and watch a Bette Davis movie on AMC together. The best. As for traditions, when I was little, we would make Christmas decorations together. One year it was salt-dough, one year it was felt ornaments, etc. I remember, too, picking buckets of blackberries so my mom could make blackberry jam. My mouth is watering.
What are some of your family's favorite traditions? What are some of your favorite memories from childhood, especially with your parents? If you have children of your own, what are some new traditions you're creating?