Saturday rocked. I drove alllll the way up to Everett to find Great Yarns. It took me an hour to get there, and on the way I was hoping it would be worth it. It was so worth it!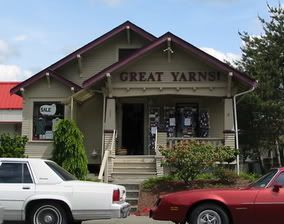 The shop is housed on a very busy street amidst strip mall quality businesses (check cashing company, day labor business, car parts shop, smoke shop, etc.) in an old craftsman style house. On the porch were racks of bagged up sale yarns, and as I made my way inside I felt like I were in a less glamorous version of Hilltop Yarn: green shag rug in the old living room where the cashmeres and Debbie Blisses were, all the sock yarn and novelty yarns were in a side bedroom (lots of Koigu! none on sale!), another bedroom had baby yarns and lots of books and magazines, the kitchen had sweater kits, Noro, more Debbie Bliss, bulkier yarns, and the dining room had a great big table full of sale yarns as well as a good assortment of all kinds of fibers on the walls and on the floor in bins. The shop had a good assortment from cheaper acrylics up to fancy lux cashmeres and all things inbetween. Sale signs were sprinkled throughout the store. The staff and customers were all very friendly, approachable, normal unassuming people. It was a great experience.

Score #1: 6 skeins (660 yds.) of La Lana Del Cigno Nero Tatiana 2 100% Egyptian Cotton from Italy, reg. price $28.50, mine for $15. I'm thinking Soleil, maybe?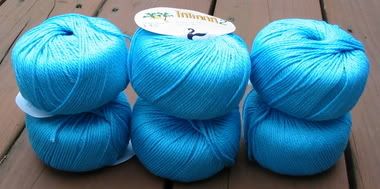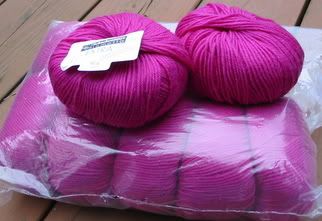 Score #2: 10 skeins (appx. 1360 yds.) of Schachenmayr Extra 100% superwash wool. I have no idea what I'll do with it, but it was marked down from $45 to $25, it's a color I like, I'll think of something.



Score #3: 10 skeins (1380 yds) of Classic Elite Waterspun 100% felted merino, in Aqua Ice. Marked down from $62.50 to $32.50. This was my happiest score; I've seen this yarn before and felt lust but didn't buy. I *adore* the color and will definitely find something to make with this!!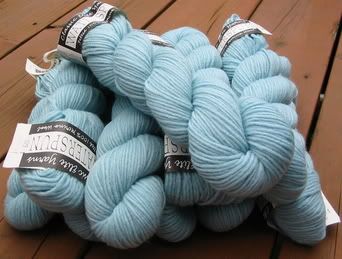 So for $75, I think I did pretty well. I don't know that I'll be going to Great Yarns very often, because of the distance, but it was a great little shop with good deals. If they have another sale in the future, I'll be there. On my way home, I was feeling the need to get a pedicure. Much better.


Later that evening, I met up with 4 of my girlfriends at one of their condos downtown... we had a fabulous dinner, lemon drops, did facials, read trashy magazines, stayed up late and watched Saturday Night Live. Here's a snap Kristina and I (that's me on the right in all my green glory) with our LUSH Mask of Magnaminty faces (so fresh and so clean!). We stayed the night and woke up to a fabulous Belgian waffle breakfast and discussion of our book of the month, Hotel Du Lac by Anita Brookner. Next month, we'll go to a real spa for massages (to celebrate V's birthday! to celebrate the end of the school year since most of us are teachers!) and discuss Joanne Harris' Holy Fools.

I could not have asked for a better weekend! Now I need to get some knitting done. Mariah, here I come!