The fact that I haven't posted for a whole week means that a) my work world has been shaken up and busy, and 2) I wanted to post a finished Mariah the next time I posted here (let's get real!). The weather this week has been fantastic, though, with thunder storms, hail, wind, heavy rain, and sunshine inbetween it all. I get really excited during thunder storms! ooh! ahh!


I spent the week (knitting-wise) finishing Mariah's hood, which I thought would take an evening in front of Law and Order, but who was I kidding, it took several sessions to knit. Hoods are big. Yes, they are. But guess what? I not only finished that hood, but I also got about 1/3 of the seaming done. I'm planning to order a zipper for it and for Ribby today, and have a couple of finished sweaters soon soon soon.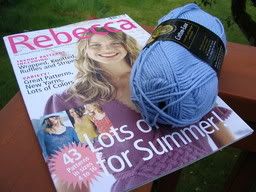 I was out and about yesterday and took a chance at my neighborhood Hancock Fabrics to see if there was any more Cotton Ease. It's now 30% off, so I got 6 skeins for around $17. Not bad, eh? This color is called Blue Ice; it's a soft blue with a little lavender tint to it. Periwinkle? We'll see what it decides it wants to become.

I took an even bigger chance and dropped by my neighborhood yarn shop, Seattle Yarn Gallery, to see if they had the new Rebecca. I've been dropping by or calling every week or two for a couple of months, just for this reason. They finally got it in! The day before! I was so happy. I don't know why the whole Seattle area got their magazine shipment so much later than the rest of the world, but I'm over it now. :)


This afternoon I'm taking my grandma to see a play... The Seattle Shakespeare Co. is putting on an all male version of The Taming of the Shrew, and I've heard good things about it so far. We'll have lunch somewhere first... should be fun!

And how could I possibly end this post without the big news of the week? Mr. Goodkarma and I finally bought our tickets for our vacation in Hawaii this July! I haven't been to Hawaii yet, but Mr. has. His parents have a condo on the big island, so we'll stay there with them for a week, and we're also going to visit Oahu for a week, where I have a dear friend to visit. Are we excited? Oh yeah! I'm already starting to think about airplane knitting. But mostly, I've had a rough couple of months at work and am really ready for some beach time. This will be my first relaxing summer in a few years... the last two years I've done major travel that hasn't been very relaxing at all. Hawaii, here we come!