I had a gloriously uneventful weekend, no plans, so hubby and I got lots of house and yard work done, and I got to knit a lot. Especially on Saturday. There were a couple of times when Mr. Goodkarma came upstairs and noticed that I was watching Law and Order and knitting. After a few hours, he huffed, "geez, how many times is this show on in one day???" Come on! You know it's a great show to knit to! All that snappy dialogue is great for those times when I have to look down and just listen. And besides, I *finally* finished the back of Lucky. Here it is in its unblocked and side-curly glory: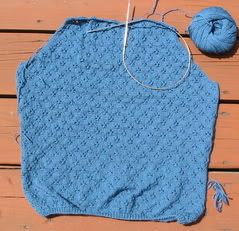 Binding off Lucky's back felt like hitting a major milestone. Lucky is not a quick knit in any stretch of the imagination. The fabric that elann's Baby Cashmere is creating is soooo yummy. I can't wait to wear this. And the rich teal peacock color is so beautiful... hard to photograph, though.






In sad knitty news, one of my coworkers' mothers passed away recently, and I found this little bundle on my desk the other day with a note asking if I could use some of her knitting needles: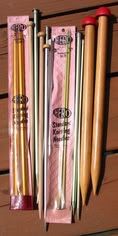 Of course I accepted, and then later remembered how much more I love using circs than straights. So if anyone out there is fascinated by vintage pink packaging and aluminum 14" straights the remaining pair of #5 vintage aluminum 14" straights, sans packaging, let me know. Our dear friend, Grumperina, who really isn't grumpy at all, in my opinion, was the first to respond to my offer. There's also an interesting wooden pair of #35s that I will probably hold on to for now, just because I don't have anything nearly this size and I might want to knit a scarf for Shaq someday. haha!


Finally, I submitted to the Cotton Ease craze a few days ago. Here's what happened:
1. I saw this Scoop Du Jour pattern by Bonne Marie.
2. I saw a picture of the pattern, knitted up modeled by Heidi in Vanilla Cotton Ease (she's started her own in Manos and is hosting a KAL, too!) and thought, wow, that looks so cute and comfy on her.
3. I started hearing about Cotton Ease being discontinued, and folks were going out of their way to buy up whatever they could get their hands on.
4. Even though I usually go for natural fibers -- even way before I became a knitter -- I suddenly HAD to have 6 skeins of Cotton Ease.

Isn't it funny how we suddenly want something we never wanted before, just because others want it and it's not going to be easy to get anymore?

I picked up Blue Popsical (sic), mostly because it was one of the only colors the local Joann had that wasn't a (as Jodi says) sucky baby color. It's really intensely turquoisy summery blue: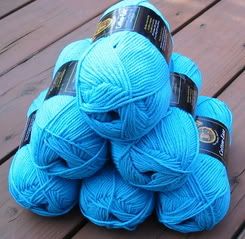 I figure, the Rowan All Seasons Cotton I got for my Rebecca Aprikot Jacke is a cotton acrylic blend, this is similar but cheaper, no? So we'll see how I like it after all!

Finally, I got my color card in the mail from Zipperstop. I need to order zippers for my Ribby Cardi and my Mariah; I figured I might as well pay for a color card to have on hand for all the future cardis I'm going to knit, right?