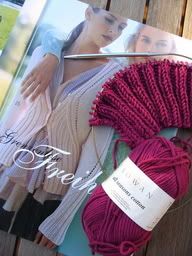 Since Mariah is practically finished, I need a new project to alternate with Lucky. Lucky is great, but I'm knitting it on size #2 needles, so progress is slooow. I need something that's worked at a larger gauge. Enter Jacke in Aprikot. I know, everyone and their mother has either knit this or fantasized about knitting it, but I love it so and have had it in my queue for months and months. I've also had this gorgeous bag of Rowan All Seasons Cotton in my stash specifically for this cardi, and it was exciting to liberate the first skein today in order to make a swatch. What you see here is what I was able to knit while watching my husband grill turkeyburgers for dinner: a few inches of the first sleeve. I am adoring this yarn. Adoring. This beet red color I'm using is called Kiss. The yarn has a great sproing that reminds me a little of knitting with Karabella Aurora 8. I *will* be using ASC again, lemme tell you.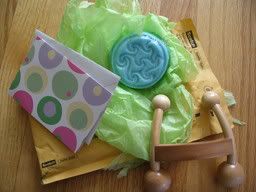 Guess what? I got a package in the mail today! What fun! This one was a little surprise pack from my new friend, Atouria, at Yarn Yoga. Such a good pal! We've been finding all kinds of things in common with one another. She sent a little wooden massager, which I went right out and used on Mr. Goodkarma, who had just finished mowing the lawn in the hot sun. He definitely approved, and said it made him all tingly, which is kind of creepy of him since I only used it on his back. :) Anyway, pally also sent me this pretty bar of soap, which will look so great in my bathroom. Here's a picture of one of the walls in our main bathroom.

Can you dig the mango walls? And mediterranean accents? I love me some citrus and "water" colors. Mmm hmm. I brought the glass dish home from Venice and it has a little mini friend that we use as a soap dish. So the soap, which is cruelty free because Atouria is vegan and loves finding fabulous animal friendly products, fits in perfectly and has a nice fresh scent that I love. Thank you!!

Finally, everyone must see this little animated movie that's making its way around the web: Store Wars. "Cuke, I'm your father..." Very funny.

I just re-read this post and realized that it made Mr. Goodkarma out to be quite hard-working while all I do is check the mail for goodies, knit, and blog. Lemme tell ya, we both earned our supper tonight. Whew. Lots of work to be done at the casa, and it was another warm day. Around 80 degrees. Better than the last two days, which were hovering close to 90 degrees! In May! In Seattle! I really do worry about global warming. This is not normal!