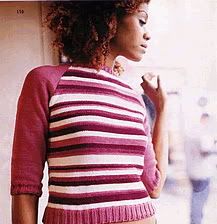 One of the first "real" projects I attempted was Becky's Peppermint Twist from SNB. I loved it and I thought it would be a great challenge for me. I'm not usually a pink girl, so I chose black, white, and two shades of purple (Lavender and Antique Plum) Endless Summer Collection Lara from elann, which is actually back for sale this week.

I put the project down when I left for a month in eastern Europe. Before I left for that trip, I learned that I had been twisting my knit stitches. I relearned the knit stitch and brought a different project along with me.

That Purple Peppermint Twist(ed stitches) has been languishing in the bottom of my knitting basket ever since: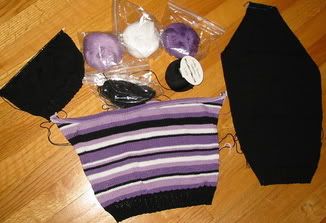 See here one finished 3/4 sleeve, another sleeve on a needle, and about half of the front piece. Looking at it today, I'm proud of how even my stitches were, even that long ago. I'd only been knitting for a couple of months at most when I started this puppy.

I almost asked for advice re: would you rip it out and start over, but I already knew the answer. Not only am I a better, more uniform knitter now (who doesn't twist her knits!), but I'm also more privvy to the importance of gauge. I don't think I paid enough attention to gauge a year ago.

So... I need a ball winder and a martini so I can tear this baby up! In the meantime, I'm working on Mariah's hood and want to finish her up this week.