Things that made me a happy girl yesterday: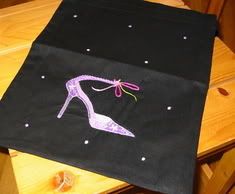 1. Grumperina sent me this sweet little thing as a thank you. It's a drawstring bag, in case you couldn't see from the picture. She's really been paying attention: she said it was a little something for goal #5. That means organizing my house. :) It's perfect for me! Now I just have to think of the perfect use for it. Thank you, Kathy! I love the colors.

2. Karen sent me this: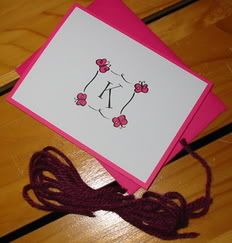 I noticed that she used the Knitpicks Andean Silk for Branching Out (go see her blog, it's soo pretty!) and I asked her how she liked the yarn. She promptly offered to send me her leftovers to knit and play with! The cute thing was that her husband so very generously cleaned up for her, so all that was left was the ends that she had to weave in, but you know what? IT WAS ENOUGH. I'm sold. This yarn is soooo soft. I even adore the color she used. Is that Sangria? Too bad there's something wrong with my camera right now and I can't use the macro. Anyway, I'm thinking an Hourglass Sweater (need to buy the book) or else Subway Knitter's V-Neck Bell Sleeve Top. Oh. It would be like buttah. Thank you so much Karen, for enabling me! You are so sweet! And we both have K names; the notecard was v. cute.

3. Becky came by and told me not to frog my Purple Peppermint Twist. The Becky who designed it! Wow, how in the world did she find my little blog? Anyway, after reading several comments suggesting that I try to save PPT, I think I will. But Mariah is *still* number one on the hit parade, and I'm going to try to finish her up this weekend.



Things I'm happy about today:

1. Laura emailed to say she got her Cotton Ease in the mail today! She couldn't find any left in her city, nor online, so I did the neighborly thing and went shopping for her! Hey, sometimes it's easier to go hunting for yarn when you're not spending your own dough. Go check out her blog; she has a finished Soleil that's gorgeous.

2. I just went to yoga tonight for the first time in months. I've been doing other kinds of exercise, so this was a good switcheroo and it helps me meet Goal #4 (getting back into yoga).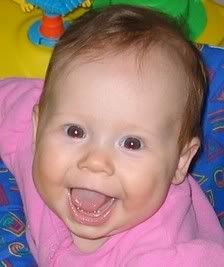 3. I'm having a slumber party with my girlfriends Saturday night! One dear friend is going soon to live in Tanzania for two years; another is coming up from Eugene, Oregon with her little 5 month old sweetie, Anya. Five of us are getting together to read magazines, paint our toes, drink lemon drops, you know. We have to start Anya out on the right foot in life, right? Gratuitous Anya shot:

4. A new (to me) yarn shop, Great Yarns! is having a sale right now and I'm going to drive up there in the morning and check it out. It's about 35 miles north of me in Everett, and that sounds like just the thing for a solo Saturday morning jaunt.

Hopefully, my next post will be announcing the completion of Mariah.