Thanks to everyone for voicing their opinions about colors for the Rebecca cardi. The votes were really evenly spread, which didn't made my decision any easier. I showed the magazine to Mr. Goodkarma, and all he noticed were all the super cropped sweaters on all the super skinny German models ("She's not that skinny," he said, and the conversation ENDED before we even got to the color options.) I just went ahead and ordered the Soho Summer in Sailboat. I was undecided until just then, when I went back to WEBS to look at the colors and realized that today was the last day of the sale. There is another, more bluey blue (sailboat is a bit greeny grey blue), called cloudless, which I seem to pick out a lot, so at least sailboat will be a bit different, spring/summery, and neutral enough to wear a whole lot.

Lolly mentioned that a friend of hers tried to knit this cardi and had to put it down. I admit that the directions are more vague than I'm used to (let's face it, Rebecca ain't no Bonne Marie), but I think I want to give it a shot.

In super happy news, look at what came in the mail today: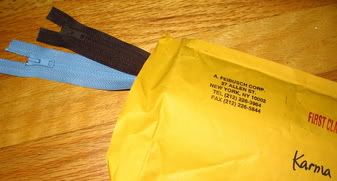 Go Zipperstop! Go Zipperstop! It's your birthday! Get busy! Sorry, that's annoying. It took only 3 days from the time I placed my order (including a custom length zipper) to the time my zippers arrived, cross-country, in my mailbox. Yippee! My only beef: I paid about $4 for the zippers and about another $4 for shipping, and the package cost $0.60 to mail. I hate being overcharged for shipping. But anyway, if it weren't 88 degrees out today (seriously!), I'd be putting these zippers in right now! But the cardis are wool and I'm already sweaty. We'll see how the weather shakes out this long holiday weekend.

Lastly, Bonnie noticed my bikes in Amsterdam photo this week and thought she'd start a little revolution: International Bike Pics on Blogs. Go see hers. It was taken in Costa Rica, and she's getting ready to move there! So, check out your photo files and post your own!